Hot Air Dry Roasting
The Continuous Hot Air Dry Roasters are designed to meet the hot air roasting requirements in the nuts field. It's a versatile machine, suitable to roast raw kernels, in-shell products, salted and/or seasoned nuts and seeds like hazelnuts, peanuts, almonds and other similar products. The Roasters, are manufactured with food grade certified materials and they are composed by three separate areas:
first room: Drying section;

second room: Roasting section;

third room : Cooling section:
The roasting air flow crosses the product layer from top to bottom and then in the opposite direction, for effective roasting of all the products on the belt. The flow rate can be adjusted thanks to the frequency converter of the specific fan. One or more dedicated rotary mixers overturn the product for maximum homogeneity of the process. After the roasting, the product is cooled down by means of ambient air. The cooling rate is accurately controlled in order to achieve the desired temperature of the product at the outle.
The roaster can work with natural gas or LPG and it is equipped by an electronic control to set out the processing data, such as roasting temperature, permanence time of the product inside the roaster, processing air, layer of the product to be processed, automatic washing device for the conveyor belt.
Among the main benefits of the Roasters:
Maximum drying uniformity

High quality roasted product

High productions in a minimal space

Reduced installation times

Low running costs

User friendly

Easy cleaning and maintenance

Low outside temperatures

Low noise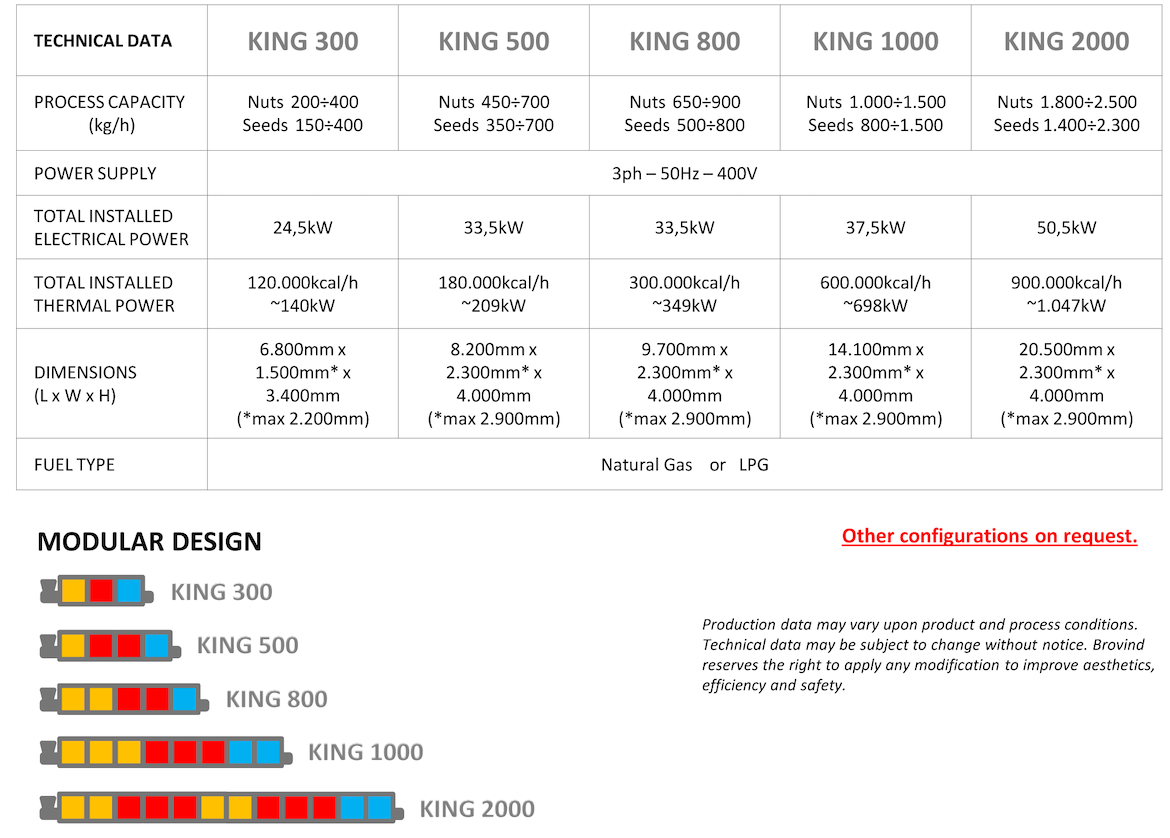 Download Brochure KING 300 - 500 - 800 - 1000 - 2000